RAP Branding & Artwork Guidelines
It is important to read these guidelines in full before using MCD's RAP Artwork for any branding or communication item.
These guidelines should be read in conjunction with MCD's Corporate Brand Guidelines
Approval
Before using MCD's RAP Artwork, all designs must be approved by the RAP Advisory Committee (This email address is being protected from spambots. You need JavaScript enabled to view it.) and MCD Group Brand and Marketing (This email address is being protected from spambots. You need JavaScript enabled to view it.).
Appropriate Usage
Our RAP artwork has been developed for a specific purpose and has meaning to the company and our reconciliation journey. The use of it must be clearly understood and explained. i.e. don't use it just because it looks nice.
Reference Artist
When using the artwork in a document / submission etc. Please include the artist's name as the creator of the artwork and include / reference the story behind the artwork somewhere in your document.
This information is contained on the inside front cover of our RAP document
MCD Usage Only
The artwork has been produced for McConnell Dowell and should not be used for alliances and joint ventures that involve other organisations. E.g. WPA and PTPA.
Correct images
DO NOT extract pictures from this webpage or copy them from any other source. All RAP artwork elements are available below in the required resolution for printing.
All items developed using the RAP artwork should be created by a professional designer to protect the integrity of the work and MCD's brand.
Our RAP Artwork (shown below) has been created for the Company's Reflect and Innovate RAPs and may change as the company moves along its reconciliation journey. Therefore, permanent installations of the artwork should be sparing and installed with the knowledge that it will need to be changed.
The license for this artwork expires in November 2024, unless renewed beforehand.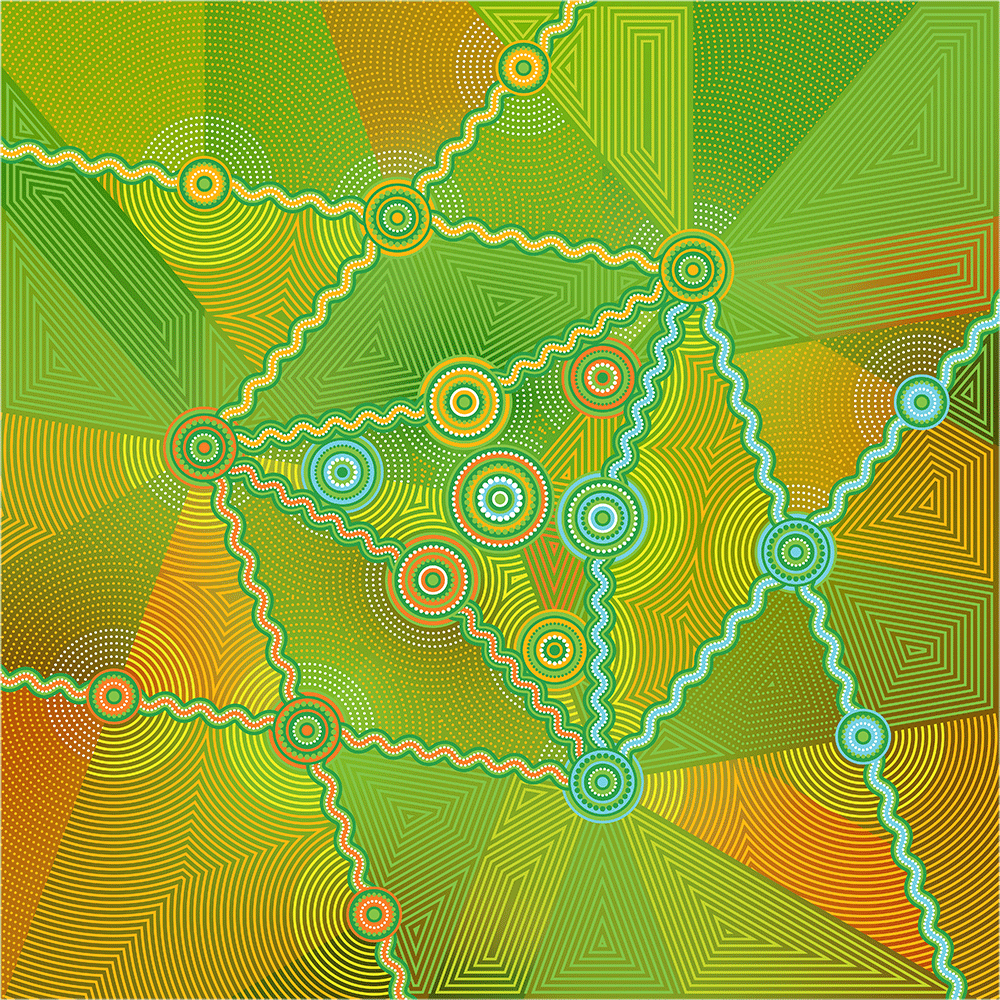 When using the main RAP Artwork on a wall or other large installations, it should be presented in full and accompanied with the story behind the artwork, an Acknowledgement of Country and the three pillars, as per the artwork below.
Wall art
Fully designed artwork can be sized to suit any wall (keeping the correct aspect). So that the full wall is covered, the artwork should be surrounded with MCD green sidebars etc to match the green of the artwork. The green is MCD green (colour breakdown C75 M0 Y95 K15)
Example below from Queensland & NSW offices – vinyl wrap.
The generic version of the above wall artwork and a pull up banner version are available below for use in offices, at sites, or for events.
The above wall artwork can also be revised to include a location specific Acknowledgement of Country (top right) - discuss with This email address is being protected from spambots. You need JavaScript enabled to view it. to update the words as required.
Where only a portion of the RAP artwork is to be used, e.g. on a shirt sleeve/collar or where space restricts full use, the centre circular ring should always remain at the centre of the artwork.
Rail Corridor Special Conditions
When using the RAP Artwork on clothing or any other item that may find its way into the rail corridor, the monochrome version must be used due to the restrictions of using green in the rail corridor. Monochrome artwork is available below.
Downloadable files
Base Artwork
Monochrome Artwork
Note Books
Pull-up Banners
Wall Art and Posters