Typography
Our typography is simple clear and easy to use. Our typeface Circular has been chosen for its impact and readability across a wide variety of applications.
Brand Typeface
Circular is the McConnell Dowell priimary brand typeface and is an important part of the visual language of the brand. Circular has been chosen for its contemporary proportions, readability at a wide variety of sizes and precise style.
Purchase Circular
Fonts may come in different cuts from various sources. It is important to purchase the correct font. Agencies, designers and manufacturers creating brand and marketing material for McConnell Dowell are advised to purchase legal copies.
Circular is available to purchase from www.lineto.com
Use Circular for all external marketing and design materials.
We use two weights of Circular: Bold and Book.
Internal font
Our internal font is Arial for use on our internal communications when Circular is not available. Use Arial in office applications such as PowerPoint and Word for internal documents, letters, emails, memos, presentations etc.
Arial is the internal font
Use Arial in internal communications whenever you don't have Circular. We use two weights of Arial: Bold and Book.
Hierarchy
It is important to organize typography with a clear hierarchy according to relative importance of the information being presented. Use large shifts in size between the different pieces of information being presented so that the differences between them is clearly recognisable and easy to navigate for the reader.
Style
Our typographic style is simple, bold and confident. It presents information clearly and is highly legible. To achieve this we only use one typeface, 2 weights, a few different type sizes on a page and large shifts in scale. The simple contrast creates consistent strong and clear designs.
The below are measurements to provide a framework for setting type within the McConnell Dowell style, and should be used as a guide and starting point when executing various layouts.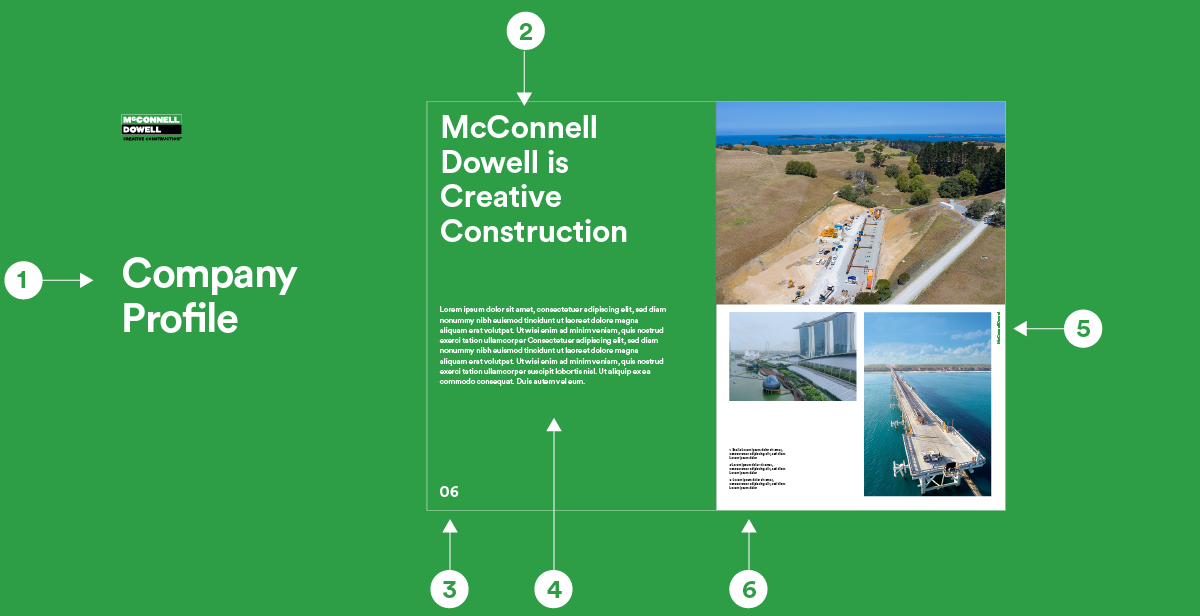 1. Cover Type

Font= Circular Bold
Size= 84pt
Leading= Auto (110%)
Tracking= - 20

2. Large Page Heading

Font= Circular Bold
Size= 65pt
Leading= Auto (110%)
Tracking= 0

3. Page Number

Font= Circular Bold
Size= 32pt
Leading= Auto (110%)
Tracking= 0
4. Intro/pull-out

Font= Circular Book or Bold
Size= 16pt
Leading= Auto (130%)
Tracking= 0
Paragraph Space after=16pt

5. Identifier

Font= Circular Bold
Size= 8pt
Leading= Auto (110%)
Tracking= 0

6. Captions

Font= Circular Book
Size= 7pt
Leading= Auto (120%)
Tracking= 0
Paragraph Space after=7pt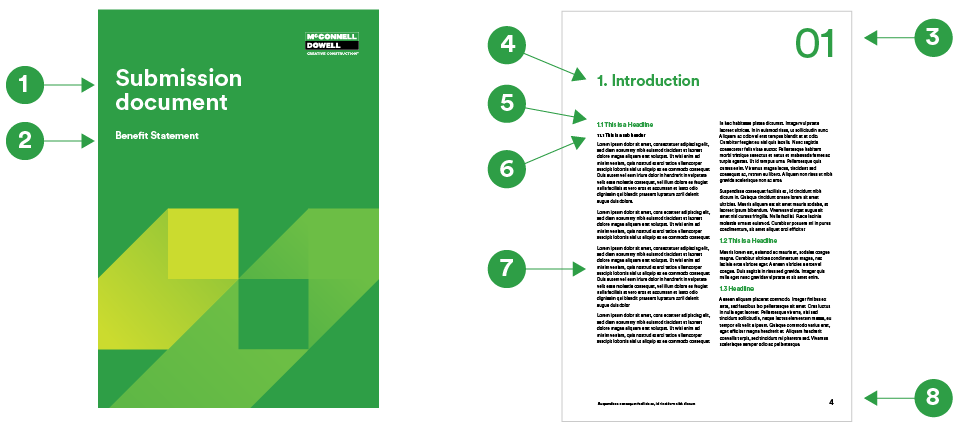 1. Cover Type

Font= Circular Bold
Size= 50pt
Leading= Auto (110%)
Tracking= 0
Paragraph Space after=40pt

2. Subhead

Font= Circular Bold
Size= 21pt
Leading= Auto (110%)
Tracking= 0

3. Section Number

Font= Circular Book
Size= 90pt
Leading= Auto (110%)
Tracking= 0
4. Green Heading Size 1

Font= Circular Bold
Size= 32pt
Leading= Auto (110%)
Tracking= 0

5. Green Heading Size 2

Font= Circular Bold
Size= 13pt
Leading= Auto (120%)
Tracking= 0
Paragraph Space after=9pt

6. Body Heading

Font= Circular Bold
Size= 9pt
Leading= Auto (145%)
Tracking= 0
Paragraph Space after=9pt
7. Body Copy

Font= Circular Bold
Size= 9pt
Leading= Auto (145%)
Tracking= 0
Paragraph Space after=9pt

8. Page Number

Font= Circular Book
Size= 16pt
Leading= Auto (120%)
Tracking= 0

9. Footer

Font= Circular Book
Size= 7.5pt
Leading= Auto (120%)
Tracking= 0

1. Cover Type

Font= Arial Bold
Size= 76pt
Leading= Auto (100%)
Tracking= 0
Paragraph Space after=11pt

2. Subhead

Font= Arial Bold
Size= 28pt
Leading= Auto (100%)
Tracking= 0

3. Presenter/Date

Font= Arial Bold
Size= 11pt
Leading= Auto (130%)
Tracking= 0
4&5. Section no/heading

Font= Arial Regular/Bold
Size= 51pt
Leading= Auto (110%)
Tracking= 0

6. Footer

Font= Arial Regular
Size= 7.5pt
Leading= Auto (120%)
Tracking= 0

7. Intro Text

Font= Arial Bold
Size= 16pt
Leading= Auto (140%)
Tracking= 0
Paragraph Space after=16pt
8. Page Header

Font= Arial Bold
Size= 36pt
Leading= Auto (110%)
Tracking= 0

9. Heading Size 1

Font= Arial Bold
Size= 16pt
Leading= Auto (120%)
Tracking= 0
Paragraph Space after=11pt

10&11. Body Heading & Body

Font= Arial Regular
Size= 11pt
Leading= Auto (130%)
Tracking= 0
Paragraph Space after=11pt