Dynamic Beams
The dynamic beams is a contemporary graphic that visually represents our clever engineering and creative construction. They can be used to create a variety of interesting shapes that add a distinctly recognisable visual element to the McConnell Dowell brand look & feel.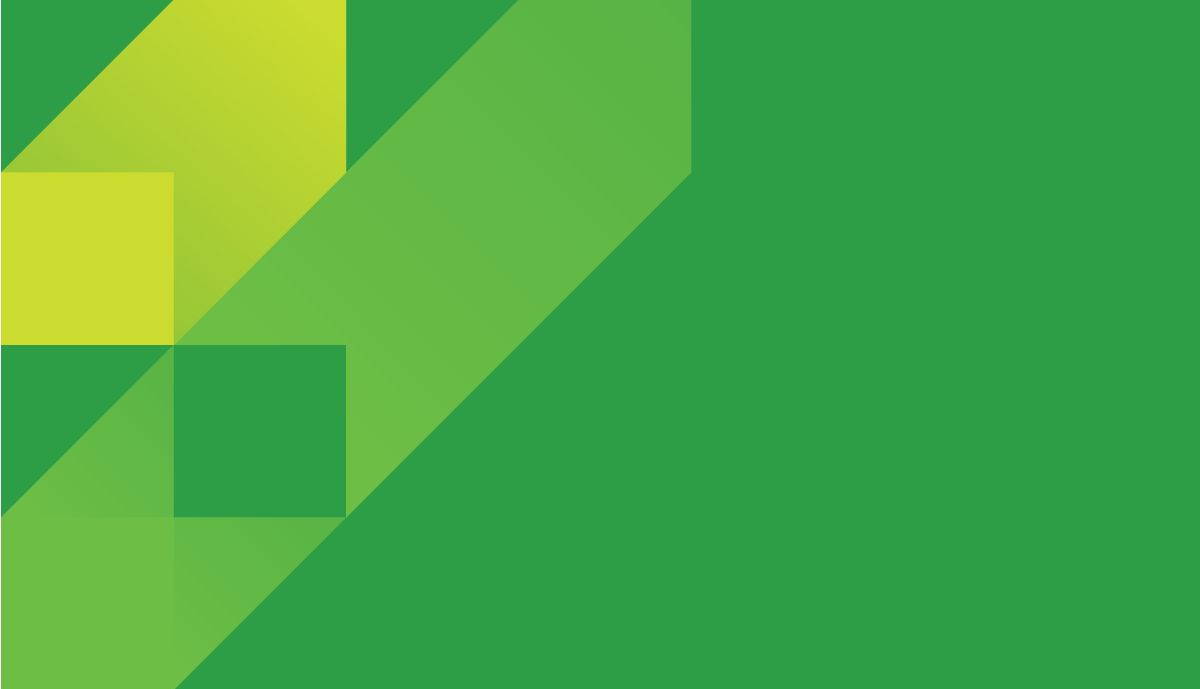 Download Dynamic Beams full suite
Download individual Beam elements below
Colour Beams downloads
There are two master versions of the dynamic beams. Use the hero green version on white or light backgrounds. Use the mid green version on our hero green background.
Only use the master artwork files, never separate, modify or re-draw them.
Construction
The Dynamic Beams have been constructed from a simple 4 x 4 square grid.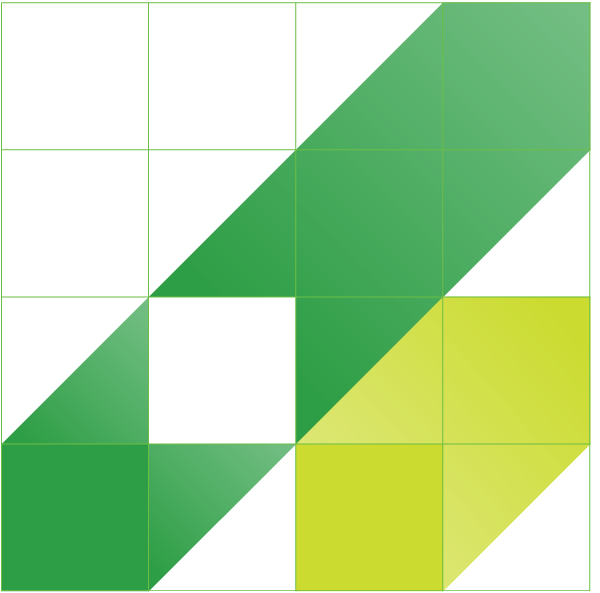 Usage
The dynamic beams may be used on most McConnell Dowell communications whereever practical.
Single page
They can appear on single page designs as a support graphic. We don't want to overwhelm other elements on the page, meaning give them space and keep the dynamic beams away from images and other type.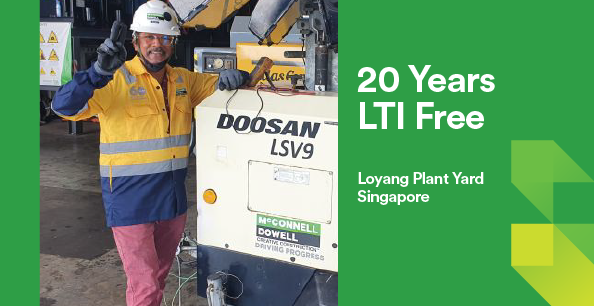 Multipage documents
The Dynamic Beams don't have to be seen on every page all over a document. On multipage documents and presentations they may appear only on section covers and the back cover for example and that's enough.
Size
We're flexible in how the dynamic beams can be sized depending on where they are being used. This means they can be sized appropriately to reflect the tone of the message, the type of communication and use. Whether large, cropped in tight or smaller on the edge of the page, the dynamic beams graphic can adapt to support the message.
Crop and scale
Always scale the dynamic beams in proportion, don't stretch them or change the proportions. Only crop to reveal a full square shapes within the graphic.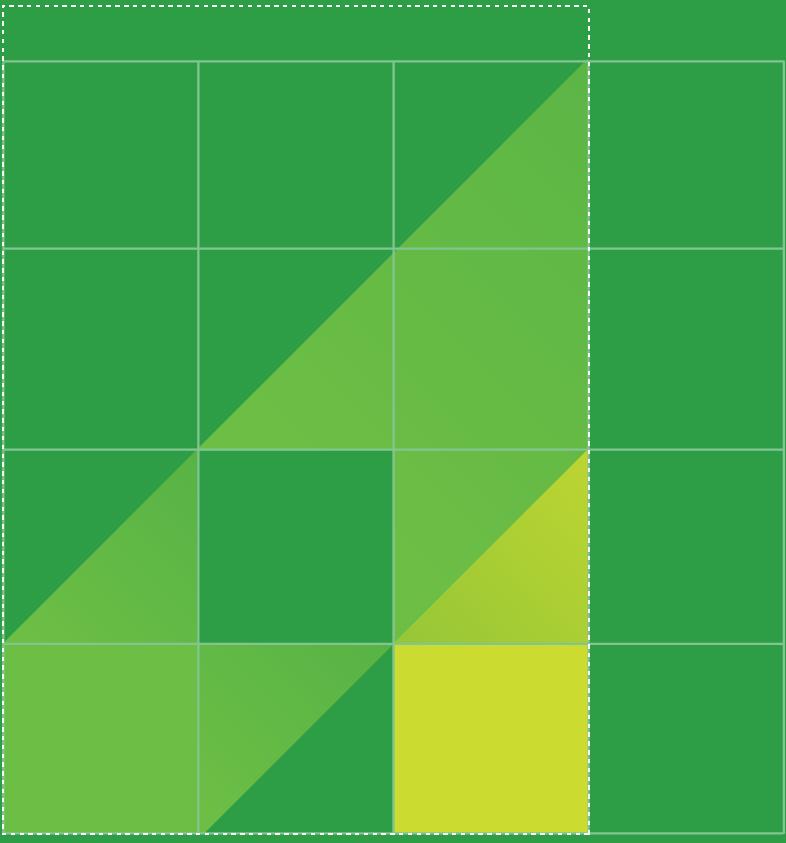 Arrangement
A wide variety of arrangements can be achieved through scaling, rotating flipping and croping the dynamic beams at different sizes.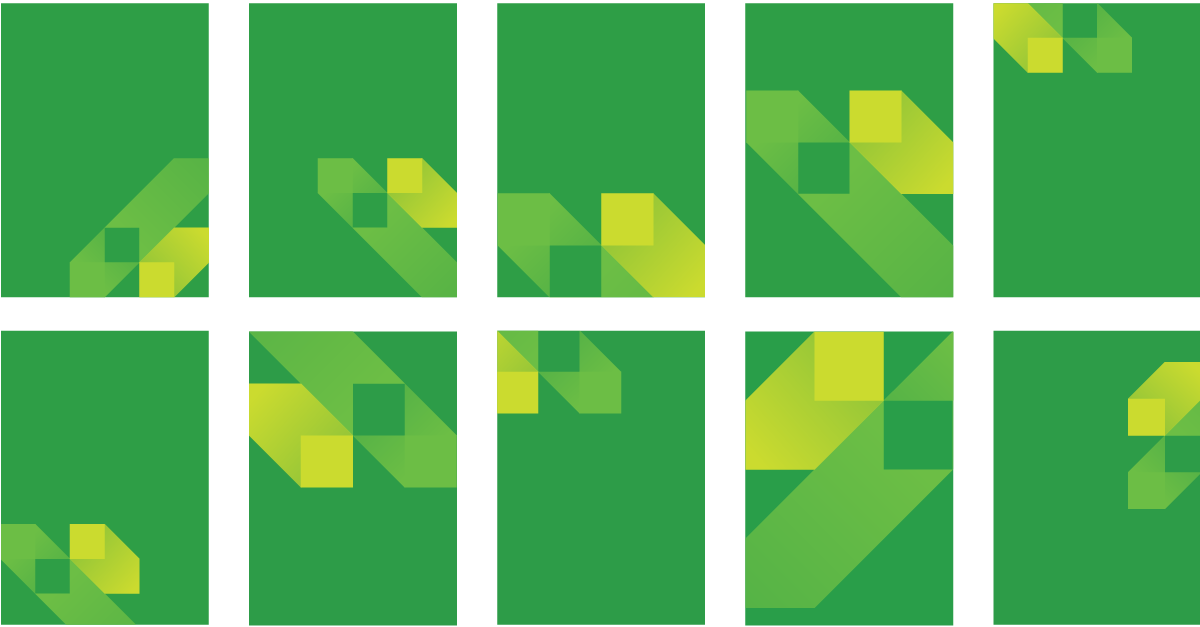 Example Arrangements
Some of the different shapes that can be achieved
Placement
When placing the dynamic beams on a page, they lock into a corner or touch at least one edge. They may be placed at full height/width or a fraction of the page.
Halves and quarters
Use halves and quarter fractions of the page to align and size the dynamic beams when they are not full height/width.

Alternative Beam versions
Alternative versions of the dynamic beams are available for limited instances where the full colour versions are not suitable. Contact the This email address is being protected from spambots. You need JavaScript enabled to view it. for these files.
| | | |
| --- | --- | --- |
| Light Grey Dynamic Beams | | Black Keyline Dynamic Beams |
| | | |
| --- | --- | --- |
| Hero Green Keyline Dynamic Beams | | Mid Green Keyline Dynamic Beams |
Don'ts
The McConnell Dowell dynamic beams should only be used as described. They are supplied as digital master artwork files and should never be distorted, redrawn broken apart or altered in any way.
| | | | | |
| --- | --- | --- | --- | --- |
| Do not change the proportions of the dynamic beams. | | Do not change the colours of the dynamic beams. | | Do not add any extra squares to the dynamic beams. |
| | | | | |
| --- | --- | --- | --- | --- |
| Do not change or redraw the dynamic beams. | | Don't use odd crops. Always crop to the full dimensions of the square shapes. | | Don't use odd angles. Only rotate the dynamic beams by 90 degrees. |
| | | | | |
| --- | --- | --- | --- | --- |
| Do not use more than one dynamic beams graphic per screen/page. | | Don't place the dynamic beams over or behind photos. They always appear on a solid colour. | | Don't place the dynamic beams away from the edge. They always lock into a corner or touch at least one edge. |