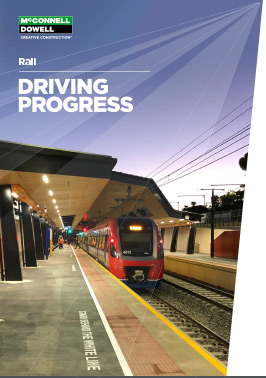 McConnell Dowell's rail capability is comprehensive. From the provision of maintenance and renewal services for discerning asset owners, to the design and construction of every element of the rail system, McConnell Dowell has the skills and experience to deliver exceptional outcomes.
Rail Yard
Our rail plant yard, located in Sunshine North, Victoria, is equipped with both standard and broad gauge tracks. The 650m long site has direct access to the mainlines of both the metropolitan and interstate networks. The facility can provide safe and secure storage and materials handling services for freight operators, as well as assisting companies moving equipment and materials across the network for projects like Melbourne Metro and the level crossing removals program. Efficient and flexible materials handling is provided through two overhead gantry cranes. The on-site workshop provides flashbutt welding services for long-welded rail, in addition to the full scope of rail plant asset management and maintenance services.
Here is a flyover of our rail yard.
Plant Services
We maintain our own fleet of tampers, regulators, flash butt welders, hi-rail excavators, hi-rail ultrasonic vehicles, track and resleepering machines, rail grinding machines, ballast cleaners, locos and wagons. Our specialised rail plant is managed and supported by a team of highly mobile, flexible and competent operators, fitters, electricians, supervisors and work crews. We have an established training regime to guarantee the accreditation and safety of our employees and the local environment and communities in which we work.
Infrastructure Services
Passenger, frieght and light rail asset owners and operators have benefitted from our infrastructure services that include greenfield track enhancements, existing line renewals and upgrades, ballast treatments and sleeper replacement.
We have designed and built complete track systems or worked with our customer's design, managing the procurement and supply of all types of rail, sleepers, fastening and turnouts. Our experience covers all forms of trackwork; from ballasted to non-ballasted, including direct fixation and other slab track and embedded trackforms.
We can also undertake asset maintenance from initial condition assessment and periodic inspection regimes, through to the execution of any required remedial works.
We are experts at managing rail occupations or closures too. Through detailed planning and diligent execution, out skilled teams always ensure the timely completion and safe handback of the renewed asset to train operations.
Rail Projects
Successful rail projects demand a broad skillset and McConnell Dowell delivers every time. We apply our broad rail skills through all of the phases of a project, from feasibility studies and surveys, through outline and detailed designs to construction, testing and commissioning.
Our strong project engineering, management and planning systems form the backbone of our multi-disciplinary approach. Critical interfaces are integrated, controlled and delivered through experienced project teams. Our integrated approach ensures compatibility of the systems, compliance with the project specification and coordination of delivery.