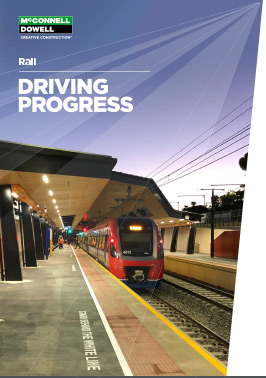 McConnell Dowell's rail capability is comprehensive. From the provision of maintenance and renewal services for discerning asset owners, to the design and construction of every element of the rail system, McConnell Dowell has the skills and experience to deliver exceptional outcomes.
Plant Services
With access to leading industry equipment such as Hi-Rail Excavators, Hi-Rail Ultrasonic Vehicles, Tampers, Regulators, Flashbutt Welders, Matisa Track and resleepering machines, Speno Rail Grinding Machines, ballast cleaners, locos and wagons, McConnell Dowell is committed to Driving Progress. Always.
Our specialised rail plant is managed and supported by a team of highly mobile, flexible and competent operators, fitters, electricians, supervisors and work crews.
We have an established training regime to guarantee the accreditation and safety of our employees and the local environment and communities in which we work.
Infrastructure Services
Passenger, frieght and light rail asset owners and operators have benefitted from our infrastructure services that include greenfield track enhancements, existing line renewals and upgrades, ballast treatments and sleeper replacement.
We have designed and built complete track systems or worked with our customer's design, managing the procurement and supply of all types of rail, sleepers, fastening and turnouts. Our experience covers all forms of trackwork; from ballasted to non-ballasted, including direct fixation and other slab track and embedded trackforms.
We can also undertake asset maintenance from initial condition assessment and periodic inspection regimes, through to the execution of any required remedial works.
We are experts at managing rail occupations or closures too. Through detailed planning and diligent execution, out skilled teams always ensure the timely completion and safe handback of the renewed asset to train operations.
Rail Projects
Successful rail projects demand a broad skillset and McConnell Dowell delivers every time. We apply our broad rail skills through all of the phases of a project, from feasibility studies and surveys, through outline and detailed designs to construction, testing and commissioning.
Our strong project engineering, management and planning systems form the backbone of our multi-disciplinary approach. Critical interfaces are integrated, controlled and delivered through experienced project teams. Our integrated approach ensures compatibility of the systems, compliance with the project specification and coordination of delivery.
Rail Data Services
The key to providing efficient rail operations and unlocking value from assets is having an integrated support network across engineering, maintenance, and supply that is backed by rigorous data collection and analytics.
Jim Frith, Managing Director McConnell Dowell Australia, says the best way to make sure the industry is getting value from its rail investments is to use data collection and analysis to aid better decision making. 
"We need to provide support for the current investments in rail infrastructure and rolling stock assets by building asset support systems that ensure return on investment, operational excellence, and ensure a smooth transition from the project delivery phase to the operational phase," Mr Frith explained. 
To achieve this, we need data collected from operational sources, the assets themselves, and factors external to but affecting the assets. 
The data needs to be collected and analysed as early as possible and all the supporting elements need to have been put in place well before any passengers get on board. Ideally this should occur during the project phase.
Our Asset Data Service
In addition to its traditional rail construction and rail plant services businesses, McConnell Dowell are implementing a coordinated and systemised approach to data collection through its plant services business. The service means McConnell Dowell's offering encompasses the entire spectrum of asset construction and management requirements for rail infrastructure.
 "We could manage the entire logistic support function for the primary operator, or parts as required, to provide an independent position of serviceable assets, backed by transparent analysis of engineering, maintenance, and supply requirements for these government owned assets of high public value," explains Mr Frith.
This provides high value for rail operators as it means there is just a single provider carrying out activities to support the provision of engineering, maintenance and supply functions in a coordinated and integrated manner. 
These Integrated data and asset support functions have worked before in other sectors, from aviation to Defence, and McConnell Dowell believe that if it's embraced by the rail industry it will help ensure full asset operational excellence.