Award: New Zealand Business Hall of Fame 2016
Recipient: Malcom McConnell
McConnell Dowell co-founder, the late Malcolm McConnell, was inducted into the New Zealand Business Hall of Fame yesterday evening.
Roger McRae, the company's current Managing Director for New Zealand and the Pacific Islands, and McConnell Dowell co-founder Jim Dowell, attended the event at the invitation of Malcolm's family to celebrate the occasion.
Malcolm is considered a "pioneer of New Zealand's modern engineering industry"...
He and his business partner Jim Dowell founded the company in Auckland in 1961 with the vision of 'doing things better'. By the end of the 1970s McConnell Dowell had expanded into six more countries and had won projects like the Marsden Point Power Station (NZ's first 1 million pound contract) and the Maui pipeline (The largest contract awarded in New Zealand at the time). Today, McConnell Dowell is active in 18 countries across Australia, New Zealand, the Pacific Islands, South East Asia and the Middle East.
The innovation Malcolm championed remains a hallmark of McConnell Dowell's work to this day. At Marsden Point, he and his team applied world-leading flotation and submerge construction techniques. He also developed innovative cross-country pipelining techniques, helped form two organisations to export New Zealand's engineering, technical and management skills and services, and played a part in forging relationships with multinational organisations such as the World Bank, the United Nations Development Program, the World Health Organisation, and the Asian Development Bank. He was also one of the initiators of Geothermal Energy New Zealand, and a director of New Zealand Railways Corporation, the DFC, the Saudi NZ Capital Corporation and NZ Steel.
Malcolm's passion for 'making things better' also extended to his support for a range of charitable causes including education, NZ Opera, and Outward Bound, which McConnell Dowell still makes available to employees through a scholarship programme.
Malcolm passed away in 1995 and is remembered as a man of immense passion, energy, drive and vision.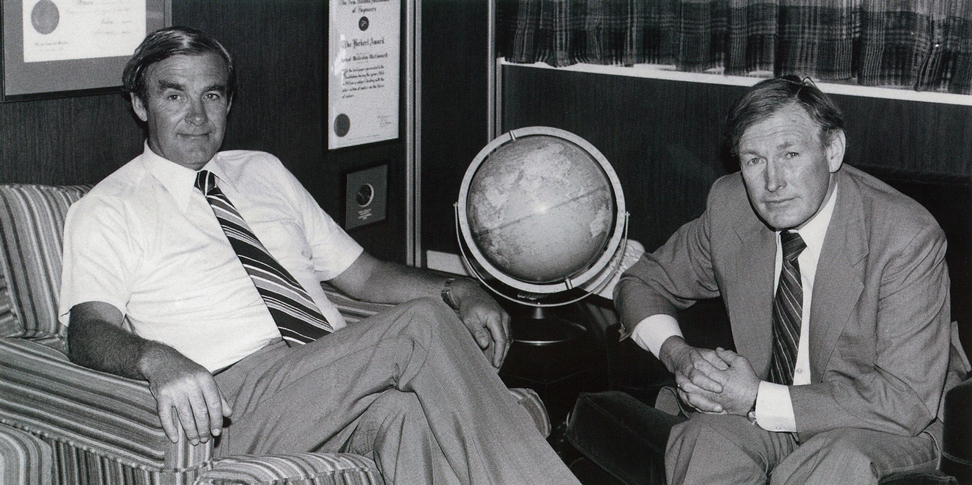 Pic caption: McConnell Dowell founders Jim Dowell (left) and Malcolm McConnell (right)