McConnell constructed a new main outfall sewer tunnel, 2.2m ID and 1.3km long, away from one of Singapore's main sewage treatment works. The successful tender was based around the use of a segmented concrete tunnel lining which minimises the diameter of the hole to be excavated and forms the structural supports at the same time as sealing off the walls. McConnell Dowell set up their own precast tunnel segment yard in Singapore handy to the job site.
McConnell Dowell developed a highly mechanised system for tunnel excavation in conjunction with a segmental precast concrete tunnel liners.
The Bukit Timah Sewer Outfall Tunnel was the first segmentally lined tunnel in Singapore.
The tunnelling was carried out in several headings by working between predug manholes. This enabled several phases al the work to be carried out simultaneously using different access points.
The tunnel shield was progressively iacked forwards as spoil was cut away and rings of precast segments bolted in behind the shield. Epoxy coated preformed fibreglass reinforced cement linings were then grouted into place against the precast segments to form on integral acid resistant tunnel wall.
One important facet of the job was the setting up of a casting yard to make the 18,000 precast segments required.
Master moulds were brought out from Buchan Concrete (UK), and seventy sets of concrete moulds were set up on site, where a daily rate of 70 segments per day was achieved.
Breakthrough into manhole exactly on line. Cutting edge of tunnel shield is clearly visible behind manhole bulkheads.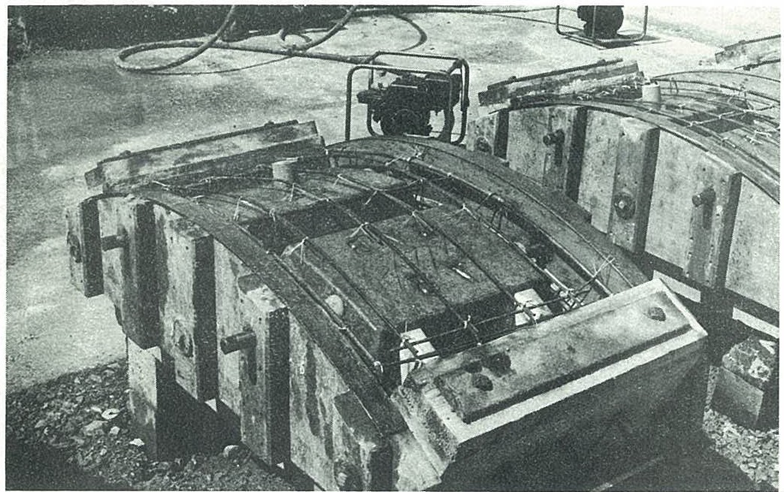 Tunnel segment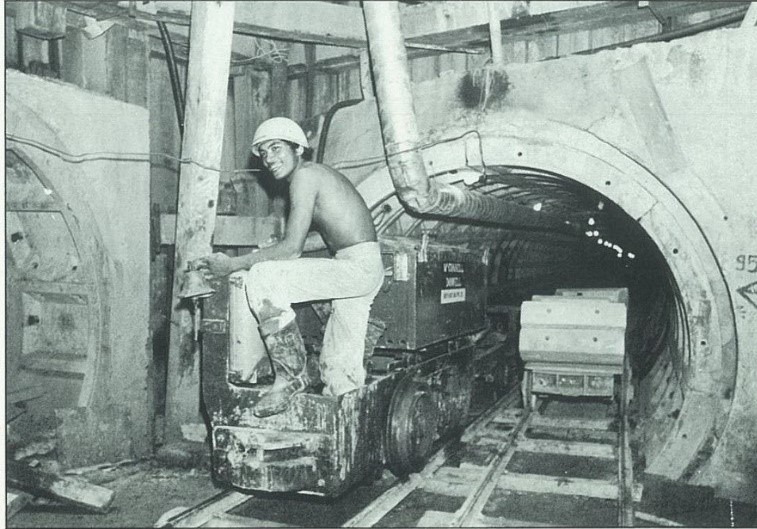 Battery Electric Loco hauling out spoil from tunnel face. Precast tunnel segments taken in on return trip to tunnel shield.