The hotly contested awards, which recognise excellence in the construction or management of assets, are a major feature of the New Zealand industry calendar. Waterview was up against the McKays to Peka Peka Expressway near Wellington and the Stronger Christchurch Infrastructure Rebuild (SCIRT), which we were also a founding member of.
In the judges' citation, the Waterview Connection Project was described as "arguably the most complex infrastructure project undertaken in New Zealand". The Alliance, working for the NZ Transport Agency, delivered not only two of New Zealand's longest road tunnels at 2.4km each, but also a complex motorway to motorway interchange, 5km of pedestrian/cycleway paths, skate parks, BMX track, sports fields and an environmental upgrade of a nearby creek.
The judges said the project was "an outstanding example of what can be achieved when a diverse group of Constructors, Designers and the Client work together collaboratively to achieve a single goal, being the delivery of exceptional facilities for the public."
The Well-Connected Alliance comprised seven organisations (McConnell Dowell, Fletcher Construction, WSP, Beca, Tonkin & Taylor, Obayashi and NZ Transport Agency) plus two sub-alliances, from four countries. The judges were impressed with the focus and investment given to gelling this diverse cultural group from New Zealand, Australia, Japan and Spain into a single harmonious team.
They also noted "a proactive risk management approach" and were also impressed with a number of other challenges faced and solved by the Well-Connected Alliance, including:
Selection of the right Tunnel Boring Machine which at the end of 4.8km of tunnelling achieved the initial assessed performance criteria with no major issues,
The spoil disposal system that included 6km of conveyors and a sound proof muck building for loading out to the Wiri disposal site,
The complexity of the three tiered Great North Road interchange bridges,
Formation of a sub-alliance with Wilsons to make the 24,000 precast concrete segments for the tunnel plus the many concrete bridge girders,
Formation of a sub-alliance with SICE to bring leading international experience in tunnel systems to the project,
Turning a nervous local community, concerned about the project impact on their daily lives, into a supportive community through a whole team approach to community communication and involvement,
Achieving an outstanding health and safety outcome on this project which had significant risks and over 11 million man-hours of work.
The Waterview Connection Project also won the Over $25m Category at the CCNZ Auckland Branch Awards earlier in 2017.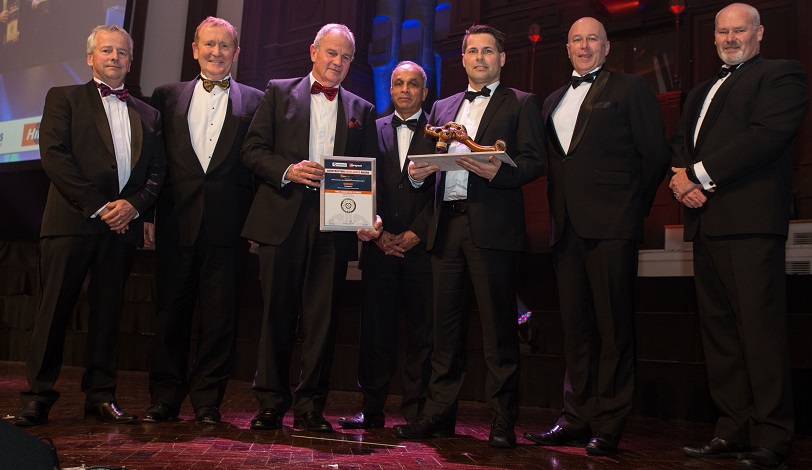 L-R: CCNZ President Brian Warren, Former MD of McConnell Dowell Roger McRae, Graham Darlow, Sumi Eratne, Glen Kirk, Peter Spies and Hirepool GM of Sales and Marketing Gary Richardson