We're thrilled to announce the signing of the contract for delivery of the New Bridgewater Bridge project for the Tasmanian Department of State Growth. This follows on from our announcement as preferred contractor in January.
Located 20 km north of Hobart's CBD, this iconic project will replace the existing lift span bridge built in the 1940s and provide a new modern bridge spanning 1 km over the River Derwent. The upgrade will benefit the 22,000 people that travel across the bridge each day, improving safety, connecting local communities, and creating more open space.
Our winning design features a new, four lane bridge downstream of the existing crossing, enhanced interchanges at either end, and a dedicated shared pathway for cyclists and pedestrians.
Our team includes leading international partners, as well as several local constructors to maximise the economic benefits for Tasmania.
Major construction will start later this year and the new bridge will be open to traffic by the end of 2024.
In announcing this important project milestone Department of State Growth Deputy Project Director, Kevin Bourne said reaching the milestone was the result of extensive planning, design work and community engagement.
"We've done a significant amount of work over the past two years to get the project to a position where we are ready to start building", he said.
"We're now looking forward to working closely with McConnell Dowell to deliver this exciting project that will benefit all Tasmanians".
McConnell Dowell CEO Scott Cummins said...
"This is an exciting project for the people of Tasmania, and the McConnell Dowell team. Designing and constructing city-shaping infrastructure that improves people's lives is the essence of our business. This project is a fantastic example of that.
"We look forward to working with the Tasmanian government, local industry and the community to complete the missing link in the state's national highway; and improve the safety, amenity and connectivity of the local area."
For more information about the project, including a virtual flyover of the bridge design, click here.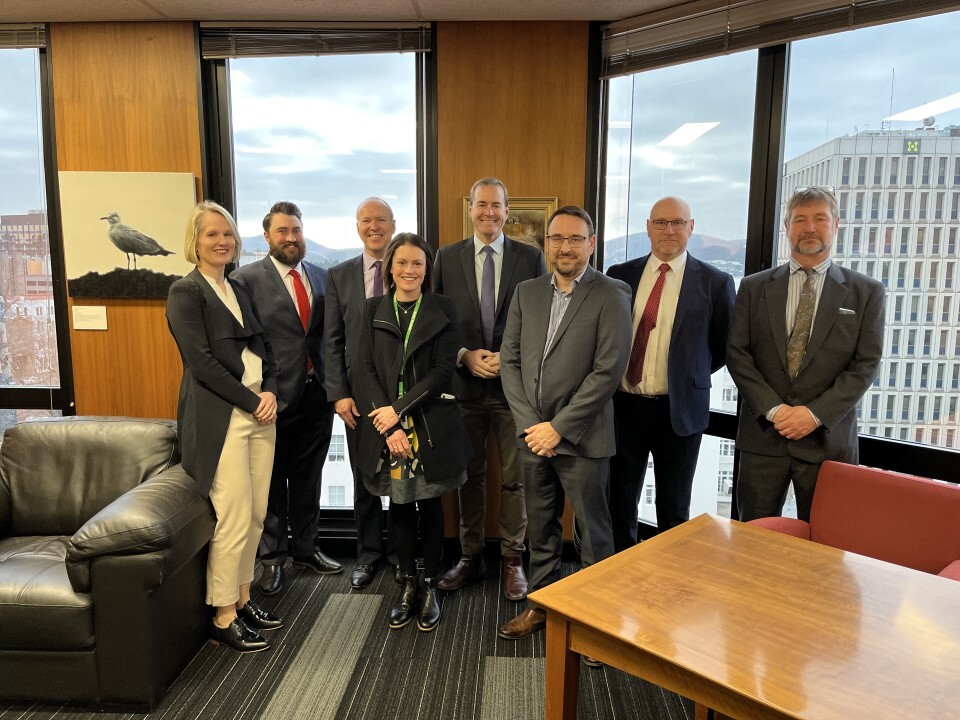 Present at the signing, from left to right:
Eliza Richardson - Special Counsel (Construction and Projects); Department of Justice Tasmania
Scott Walker – Project Commercial Manager; McConnell Dowell
Geoff Winnett – Commercial Director; McConnell Dowell
Laura Middleton – Project Manager Stakeholder Communications; Department of State Growth
Michael Ferguson - Deputy Premier, Treasurer, Minister for Infrastructure and Transport, Minister for Planning
Kevin Bourne - Deputy Project Director (Acting Project Director) New Bridgewater Bridge Project; Department of State Growth
David Sims - General Manager Vic/Tas; McConnell Dowell
Peter Fraser - Project Director, New Bridgewater Bridge Project; McConnell Dowell