Two of McConnell Dowell's New Zealand's tunnelling projects at Barber Grove and Corban Reserve, are using e-bikes to achieve sustainable safety outcomes.
Cyclists face different challenges to drivers, so the two projects have been using e-bikes to ride in our 'customer's shoes' and test-cycling traffic management plans before they open to the public.
Riding the route is the best way to identify issues like uneven surfaces, unclear signage, visibility, and space constraints, you can experience and assess risk factors, something you can't do in the office or from a car.
Leah Raviharan, Stakeholder Advisor on the Corban project noted, "It's a great way to get into our customer's shoes or tyres and see how traffic management plans are working first-hand".
Having an e-bike onsite is great for safety but also a great alternative transport option that saves fuel and carbon emissions. Site staff can leave their vehicles in the yard, and cycle around the different shaft work sites. Tunnelling projects often have multiple shaft sites short distances from each other making e-bikes the perfect way to get around.
Hypothetically if an engineer visited each of the three shaft sites twice a day, they would drive about 23 km in a week. Using the e-bike week would save 2.55 L* of diesel and reduce their transport carbon footprint by 6.86 kg/ CO2-e ** of carbon equivalent gases.
The e-bikes offer even more benefits as they save time, won't get stuck in traffic, make parking a breeze and have a positive impact on the rider's well-being.
*The average ute uses one L of diesel for every 9 km travelled and the emission factor for a litre of diesel is 2.69, [(23/9.01) x 2.69] = 6.86 kg/ CO2-e is saved.
**Based on Ministry of Environment figures for emission factors of 2.69 kg/ CO2-e for diesel and fuel consumption records of 8-11L per km for Toyota Hilux company utes.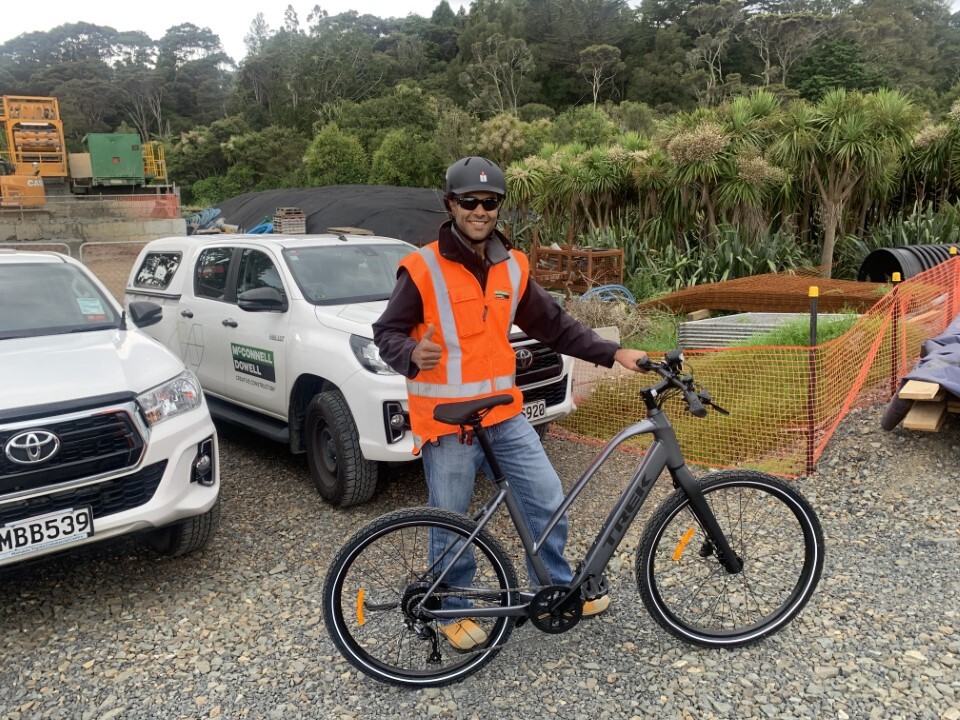 Corban Reserve e-bike rider Karun Kumar is ready to ride