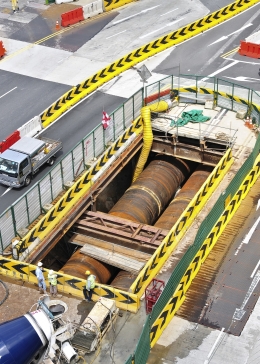 The Company is pleased to announce the successful commission of the twin stormwater diversion pipes through the station box at the Beauty World Project in Singapore.
These pipes are temporary works to divert an existing major stormwater culvert that runs through the middle of the Beauty World Station. With water now flowing through the pipes, this important step allows us to demolish the existing drain and proceed with Stage 3 excavation for the station box.
The twin pipes are necessary to temporarily divert the flows of the existing box culvert. These diversion pipes, which are 2.8 m dia, will be suspended from the upper struts of the excavated structure, with excavation to continue underneath. These twin pipes run for almost two thirds the length of the station (approx 300m) and will remain in place until the final concrete permanent culvert is constructed on the surface in late 2012. Once the station box is complete, we will then have to reconstruct the RC culvert and decommission the twin pipes.
The installation of these pipes, as well as the excavation and controlled blasting works that took place, were identified as a high risk activity, and were completed under temporary decking with traffic flowing on top. The welding of the pipes was classified as a confined space within an already restricted work area environment. The works were planned and executed well, with management of issues that arose promptly and effectively dealt with.
Meanwhile, the two TBMs Artemis and Athena, continue their journey and are progressing well. (as seen in the pictures below).
ENDS
About McConnell Dowell Corporation Limited:
McConnell Dowell is a major engineering, construction, building and maintenance contractor delivering infrastructure to the building, mining, oil & gas, power, petrochemical, social & public infrastructure, transport and water sectors.
The Group has a broad construction offering with complete multi-discipline capability in building, civil, fabrication, electrical and mechanical works and are engineering and construction specialists in pipeline, tunnelling, marine and rail construction.