It travels under the new Harewood Roundabout, aims to provide high quality active transport infrastructure and provide safe passage for pedestrians and cyclists and to the growing Christchurch International Airport precinct.
Cast by local producer Cancast using concrete moulds following a 3D CAD model, the 84 multi-faceted, concrete panels are painted in glossy white and evoke the Southern Alps. Four 1.5 – 8m wide inter-panel sections were cast in-situ using vertical rough sawn timber boards with vertical 10mm triangular grooves to contrast with the texture and form of the precast panels. These inter-panel sections are painted in the colours of the sky from west to east: West Coast sunset, stormy West Coast sky, the Nor'west arch and the broad blue Canterbury sky. Both surfaces are tactile, inviting touch; and with the paint finishes, a dynamic play of light reflectance, shadow form and colour contrast is produced.
Within the roundabout, 25 spun, 500mm diameter concrete pipes channel natural light into the underpass. They are oriented towards the sun and pierce through to the roundabout to deliver intense moments of sunlight that travel along the walls and floor as the sun moves through the sky. The pipes are painted in the same high gloss white to reflect natural light down into the underpass.
"The quality of the finished structure is truly supreme – both striking and functional," says McConnell Dowell Downers Contractors Representative and McConnell Dowell Roading Director Aidan Brannan. "It sets a very high standard in urban transportation features for the future."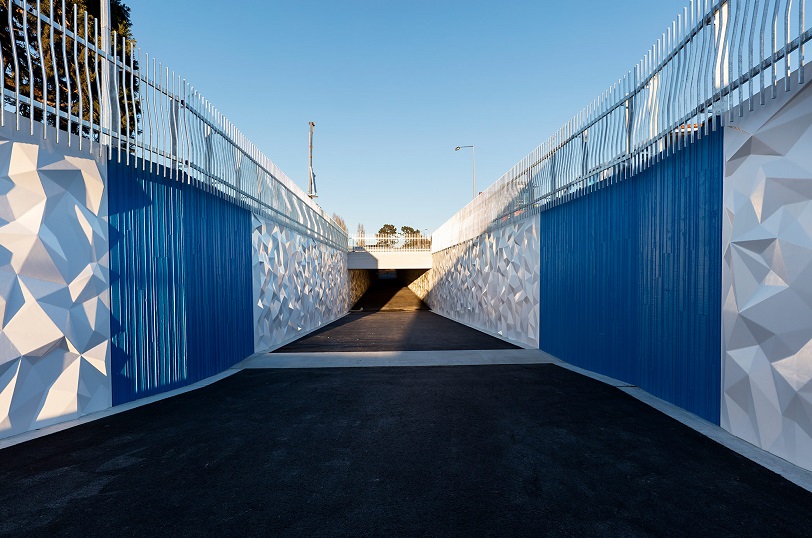 Inter-panel sections cast in-situ contrast with the texture, form and colour of the precast panels.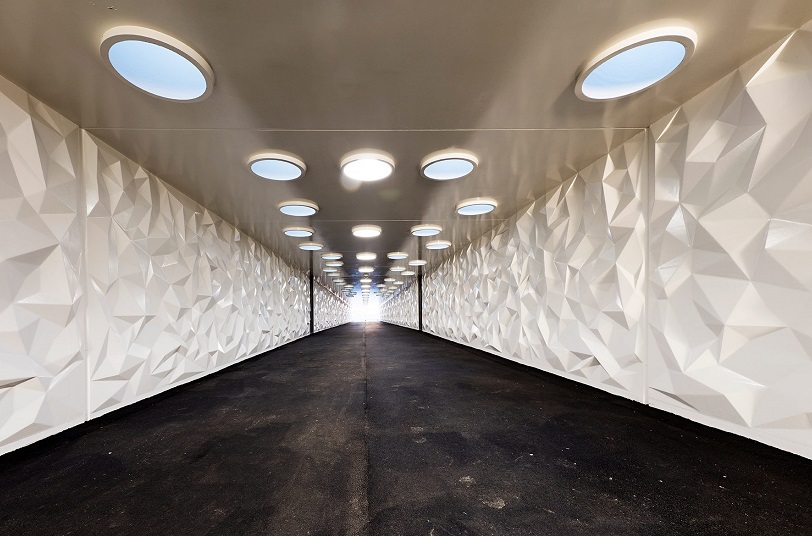 The multi-faceted concrete panels are painted in glossy white and evoke the Southern Alps.