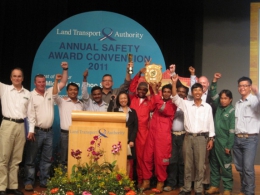 The Company is pleased to advise that the DTL2 C916 Beauty World Station and Tunnel project in Singapore was awarded first prize in the Land Transport Authority's (LTA) Annual Safety Award Convention (ASAC) 2011 awards.
This win follows the recent award for C916 of the Safety and Health Award Recognition for Projects (SHARP) by the Workplace Safety and Health (WSH) Awards 2011.
The ASAC was introduced to promote integration of safety into work culture and the prestigious first prize is awarded to projects demonstrating excellence in Safety Culture and Management. DTL2 C916's win recognises their impressive safety management processes and achievements.
This win is a very significant achievement for C916 as it not only demonstrates LTA's appreciation of their safety culture and management but also other important industry authorities such as the Ministry of Manpower, Workplace Safety and Health Council, Singapore Contractors Association Ltd. and Public Utilities Board, amongst others.
This award recognises the C916 team's complete commitment to "Home without harm, Everyone, Everyday".
ENDS
About McConnell Dowell Corporation Limited:
McConnell Dowell is a major engineering, construction, building and maintenance contractor delivering infrastructure to the building, mining, oil & gas, power, petrochemical, social & public infrastructure, transport and water sectors.
The Group has a broad construction offering with complete multi-discipline capability in building, civil, fabrication, electrical and mechanical works and are engineering and construction specialists in pipeline, tunnelling, marine and rail construction.