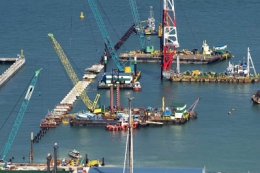 The Singapore Tourism Board awarded McConnell Dowell SEA, in joint venture with Penta Ocean and Toa Corporation, the design and construct contract for the new Singapore International Cruise Terminal at Marina South.
The joint venture will undertake construction of:
two new berths, terminal deck, car park deck and mooring dolphins,
an 800 m long current training wall,
dredging for navigation passage and land reclamation,
road access, services and miscellaneous ancillary works.
McConnell Dowell has primary responsibility for the training wall, installing driven piles and a 6 m wide concrete deck, as well as an interface deck of 45 m x 36 m along with the dredging and reclamation works.
The new International Cruise Terminal replaces the existing terminal at Harbour Front and is located at Marina South, which has deep waters, a large turning basin and no height restrictions, enabling it to accommodate today's largest cruise ships.
The facility is able to berth ships of up to 220,000 GRT and measuring up to 360 m in length with a draft of up to 11.5 m.