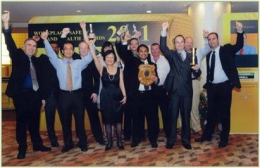 The Company is pleased to advise that McConnell Dowell South East Asia Pte Ltd were awarded two 2011 Workplace Safety and Health (WSH) Awards at the Workplace Safety and Health (WSH) Council of Singapore Awards Dinner held on 27 July 2011.
The awards presented by WSH, and supported by the Ministry of Manpower, recognise companies with innovative WSH practices and excellent WSH performance.
Award details follow:
Workplace Safety and Health Performance Award - recognises companies or organisations that have performed well in safety and health through the implementation of sound safety and health management systems. This Award is open to all industries, and to both large and small companies.

This award gives recognition to McConnell Dowell Singapore's outstanding completion of 5,236,282 LTI free man hours in 2010 across all projects.

Safety and Health Award Recognition for Projects (SHARP) - recognises projects or worksites with excellent safety and health performance and workplace safety and health management systems. This includes large-scale projects that mobilise significant manpower and have shown their ability to manage WSH on a project-level.

This was awarded to our project team at DTL2 C916 Beauty World Station and Tunnels project who have, to date, achieved an impressive 1,894,700 LTI free man hours.

This is McConnell Dowell's second SHARP award, with the Company previously awarded recognition for an excellent safety performance at Helios Oil Terminal project in 2008.

These awards recognise the Singapore team's complete commitment to "Home without harm, Everyone, Everyday".
ENDS
About McConnell Dowell Corporation Limited:
McConnell Dowell is a major engineering, construction, building and maintenance contractor delivering infrastructure to the building, mining, oil & gas, power, petrochemical, social & public infrastructure, transport and water sectors.
The Group has a broad construction offering with complete multi-discipline capability in building, civil, fabrication, electrical and mechanical works and are engineering and construction specialists in pipeline, tunnelling, marine and rail construction.