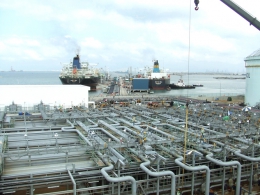 The Helios Bulk Liquid Storage and Blending Facility job was completed ahead of time, and with its first-class safety performance, was awarded the "Singapore Safety and Health Award" in 2008.
McConnell Dowell was awarded the mechanical and civil works contract in May of 2006 by Helios Terminals Corporation. The project is based on Jurong Island, Singapore which has been a happy hunting ground for the company over the last 30 years.
McConnell Dowell constructed tank foundations, pipe racks, bund walls, valve and pump manifold, piping, loading arms, jetty topsides, all electrical and instrumentation, and other facilities including offices. 21 liquid storage tanks are included in the facility with a capacity of 448,000m3. Also included are six major jetty platforms. All of the structural steel and pipe used in this project was manufactured in McConnell Dowell's fabrication facility in Batam.
McConnell Dowell's highly motivated project team completed the project ahead of time, safely, and on budget. The project was completed by the 1st of December 2007.