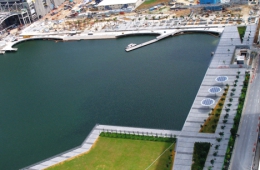 The Company is pleased to advise project completion of the Urban Redevelopment Authority (URA) Waterfront Promenade Marine Structures at Marina Bay.
The Marine Structures scope comprised a 250m long 12m wide Marine Boardwalk, with 32m long x 5m wide Piles less Pontoon. The project poured 1300m3 of pre-cast concrete, 700m3 of Insitu concrete and used 3000m pf Steel Pipe Pile.
The URA initiated the project as a "Park in the City", with the emphasis on being an aesthetically pleasing feature in the heart of Singapore's CBD. Further to the usual civil and structural challenges of the project was the additional requirement of "Architectural Intent".
An example of this challenge was the three dimensional double curved frontal beam, with curves running both horizontally and vertically. This feature was key to the architectural intent of "Embracing the Bay".
With clever engineering, good team spirit and communication, the project was completed 5 months ahead of schedule on a 14 month program, with 134,568 hours completed LTI free.
ENDS
About McConnell Dowell Corporation Limited:
Formed in 1960, McConnell Dowell is a world-class engineering, construction, building and maintenance group with projects throughout Australia, Asia, New Zealand, the Pacific and the Middle East. For almost 50 years we have continually delivered the right engineering solutions for our public and private sector clients throughout our operating geographies.
McConnell Dowell's diverse service offering includes building, civil, electrical, fabrication, marine, maintenance, mechanical, pipeline, rail and tunnelling infrastructure capabilities in the key market sectors of building, mining, oil and gas, petrochemical, power, public infrastructure, transport and water.